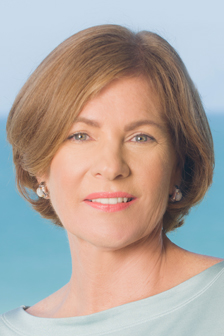 The Sun
I've been lucky enough to call Siesta Key my on-again, off-again home for over 40 years. During those years I've moved back and forth to Santa Monica, New York City and Phoenix for work.  Between each move the crystal sands of Crescent Beach has always drawn me home. There's an allure to sipping my first cup of morning coffee while standing on my lanai scanning the gulf for dolphins.
After thinking about what's most important in our lives, my husband and I made career and life changes so we could permanently reside on Siesta Key. The sun called me back to Sarasota. And the sun will keep me here.
As a proud Michael Saunders & Company Realtor, most days are spent helping my clients buy or sell residential properties on our beautiful Key. These clients are also my friends. I may have known them all my life, or we may have just met at one of my open houses. However long I have known these friends, I have a personal interest in making sure their real estate transactions bring them joy and sunshine.
The Sand
Living on Siesta Key, the term "location, location, location" has a huge impact on where people desire to live and vacation. Owners and vacationers want to reside directly on Crescent Beach.  They want to dig their toes into our cool, powdered-sugar beach.  An unobstructed Gulf of Mexico view tops most must-have lists.
On mid-Crescent Beach sits Horizons West condominium. This gulf-to-bay complex is comprised of detached villas and a 9-story high rise.
The high rise runs parallel to the Gulf Mexico allowing each unit views overlooking the beachside pool, crystal sand beach and the blue gulf water. Units on higher floors have panoramic views from Point of Rocks to the northern-most point of Crescent Beach.
Those lucky enough to have corner units may glimpse the high-rise buildings of downtown Sarasota and Lido Key. There's really no other complex on Siesta Key that offers full western views, a gulf-front swimming pool and gulf-to-bay amenities. No matter what time of year, a sunset can always be seen from these beautiful Siesta Key condo units.
The Three Bedroom
I am proud to announce that I have a new listing in Horizons West.
This 6th floor CORNER unit has take-your-breath-away views.
What makes this 1,798 square foot unit even more appealing is that it is a very rare 3-bedroom unit.   Three bedroom units seldom become available. And three bedroom units with full gulf views are truly few and far between.
This roomy condo is wonderful for full-time residents. It can also be used as a second home with the possibility of renting the unit via Horizons West on-site rental office.
This spectacular view unit is currently available for $1,350,000.  I will be happy to show you this 3 bedroom unit and welcome you to Horizons West and our beautiful Crescent Beach.
If you'd like more information on this spectacular property, please contact me directly:
Call my cellphone:  941-587-2289
Michael Saunders & Company | 5100 Ocean Boulevard | Sarasota, Florida 34242 | 941.349.3444