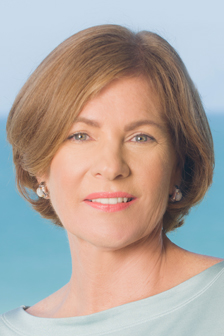 "Daddy, why is that man in the water with a camera when there's so much lightening?" asked the six-year-old boy to his father as they ran for cover.
Hey, kid, forget about that man with the camera.  How about the two people on the paddleboard with a bottle of champagne and a silver ice bucket!
If we hadn't been laughing so hard I would have been nervous.  It was the end of July on Siesta Key and another squall line was fast approaching.  The water was turning rough and the current was quickly changing.
"Suki, stop making it look so difficult.  And keep the paddle on the other side of you.  It will make a better picture!" yelled John, our photographer, over the intensifying wind.   I had a 175 lb. man on the front of my board and rough water swirling around me.  I was doing my best just to keep us afloat while watching for lightening and, of course, trying not to mess up my hair. Needless to say, I hadn't yet given John his first paddleboard lesson.
Getting to my knees, I took another turn out to sea in order to come around for John to get the last set of photos.  John was now in the rolling water up to his chest trying to keep his very expensive 30-pound camera dry.  Facing the beach, I told the man on the front of the board to hold on.  I waited for a calm moment and stood up on the board.  Perfect execution!  We weren't supposed to look at the photographer, but I stole a glimpse – he seemed happy.
"Wrap it up and let's get out of here before we get hit by lightening!"  John yelled.  Laughing, I got on my knees, took a swig from the champagne bottle, then held the paddle over my head in victory.
CLICK.  We're on the August cover of Sarasota Scene Magazine!
That 175-pound man on the front of the board is my husband, Vince.  He laughed through the entire photo shoot.  And it was contagious as John and I couldn't stop laughing either.  We were laughing even as we raced to get undercover with the board, paddle and camera as the rain began to pelt down upon us.  Vince is an amazing partner and we're still laughing after 25 years.  We met on Wall Street where we worked together and later left corporate America to form our own consulting firm.  Eight years and three states later we first met, and ended up getting married at the old Summer House Restaurant on Siesta Key.
John, our photographer, is the one and only John Revisky (johnrevisky.com.)  John began his career as a fashion photographer and has photographed some of the hottest names in the music industry including Curt Cobain and Courtney Love.  He worked throughout Europe in multiple fashion houses including Prada and Versace before Nike snagged John to help them create Nike.com. Choosing to be near family, John decided to settle in Sarasota and today is the premier photographer in our area.  He is the Director of Photography for Sarasota Scene Magazine while continuing with his freelance work.  Those beautiful Sarasota Ballet photographs are John's creation.
I first met John when I was recovering from a severe case of Bell's Palsy and needed a photograph for my Michael Saunders real estate website.  I can't stand having my picture taken and I was (and still am) very insecure about how my illness left my face.  John and I met at Buddy Brew in downtown Sarasota for coffee one morning and instantly formed a connection. His mom had had Bell's Palsy and he thought he'd have no trouble with the photographs.
John ended up taking my pictures from the lanai of my condo on Siesta Key.  John, Vince and I spent several hours together during the photo shoot.  John teased us for having three paddle boards in our living room mainly because we live on the 8th floor and have to haul them up and down the elevator each time we use them.  Vince and I take great pleasure in teaching folks to paddle board.  When we're out on our boards and see someone who looks interested we give them a quick lesson.  We've met some of our best Sarasota friends this way.  I have a special place in my heart for all the kids we've taught and am always excited to get letters and cards from them when they return home from their Siesta Key vacations.
I was surprised when John called one July day and asked if Vince and I wanted to do a little paddle boarding.  He needed a cover shot for Sarasota Scene Magazine's Boomer issue on aging masterfully.
Sarasota Scene Magazine is a beautifully photographed and informative print and on-line magazine that features the diverse interests of our community.  It is the longest running (1957) and most widely distributed city publication in the Sarasota/Bradenton area. Each month I can't wait to delve into the pages of this amazing publication.  Julie Milton, the magazine's energetic and dynamic Publisher and Executive Editor, leads a fantastic staff.
Needless to say I was flabbergasted and honored that Vince and I were selected to show how today's baby boomers actively embrace Sarasota's outdoor activities.
Vince and I thank John, Julie and everyone at Sarasota Scene Magazine for this wonderful adventure. We look forward to seeing our fellow baby boomers in our beautiful Siesta Key waters, taking up the wonderful sport of paddle boarding, enjoying new adventures and having fun!
Suki Scollo
Cell: 941-587-2289