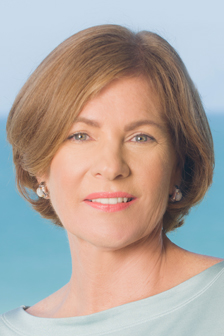 One of my favorite ways to relax and recharge is to walk on Siesta Key's beautiful Crescent Beach. This beach is meant for walking with its compact and always cool sand that can be enjoyed both barefoot or in walking shoes. Our crescent-shaped beach (thus the name) extends from Point of Rocks at the south to Siesta Key Village at its northern point.
Depending on my mood, I might take a leisurely stroll while looking for dolphins, take a power walk to burn calories, or take a run at the shoreline. Okay, nix the run part. My running usually consists of jogging to the refrigerator during commercials. But you get my idea.
Most relaxing to me is looking for shells. I'm always on the hunt for "Baby's Ears", or Naticidae.
These shells are very fragile and hard to spot. I always make a wish when I find one and put it with my treasured collection of objects I've acquired over the years. My friend Peggy has a jar full of Baby's Ears and is continually shocked at my inability to spot them. But she's a good 9 inches shorter than me, so I figure she's closer to the source than I.
My Sunday walks are different. Shell hunting and power walks are replaced by my new mission: I take garbage bag in hand and spend my morning walk picking up beach trash. I believe this is the least I can do to repay Mother Nature for all the enjoyment she has given me.
Some days I return home with my bag overflowing; other days I'm inspired that I don't find much. My treasures generally consist of cigarette butts, plastic bags, cigarette butts, empty juice boxes, plastic bottle tops, cigarette butts and miscellaneous odds and ends.
Sometimes I find treasures too good to discard, some of which I happily display. I once found one leg of an unidentified action hero. My most expensive find (at least for the person who lost it) was an iPhone 7. Too bad it washed up with the incoming tide.
The looks I get when picking up garbage are always interesting. Some folks look away – like I'm a bag lady or failed treasure hunter. Other stop to ask if I'm with a cleanup organization or group. I'm happiest when someone passes me and mouths, "Thank You".  I feel that maybe that person is extra diligent with bringing home everything she brought to the beach.
Trash is rarely purposely dumped by beachgoers. Sometimes a wind kicks up and blows a bag away, or a baby unknowingly drops a juice box. 2017 isn't like when I was a kid. I remember people driving down the road throwing their fast food containers out their car windows. We've changed from those days. A lot of the garbage I pick up is old and is washed up on the beach after storms. Today, we understand that plastic and cigarette butts kill our turtles and manatees. We know the ramifications of garbage in our seas. I'm just doing my part to pick up a misplaced toy or a fly-away plastic bag.
And maybe one Sunday, when I'm bending over to pick up a cigarette butt, I'll come across an unbroken Baby's Ear and get to make another wish.
Imagine the Unimaginable
If you're looking to purchase a slice of our paradise or move to a new location, please contact me. 
I'd love to help you buy or sell your next property!
Visit my website at SarasotaBySuki.com
Call my cellphone at 941-587-2289
Send me an email at SukiScollo@michaelsaunders.com